HI FRIENDS!
I have missed you!!!!! Seriously. Thanks for hanging out while I took a blogging nap. It means the world.
So, Monday hit, and life kinda hit. Really hard. My head and heart have been in a tizzy. Among it all (and thankfully) this week I am traveling for work, and then headed to Nashville to hug my sister and brother and meet my NIECE for the very first time! My heart couldn't be more full. The thought of kissing those little cheeks is just getting me through each day.
Side note: I miss my hubby and my puppy. Traveling is nice, but sometimes when life hits I just want to eat popcorn on my couch with my little family who always make me feel better.
oh, the woes of being blessed by being loved by, and loving, so many.
Tomorrow I will try and update you with a huge Instadump, but for now, I need to get this post out of my inbox, so that it can quit making me hungry. All. The. Time. Seriously. What is better than pad thai, you may ask?
Pad thai you can make at home... By
Amanda
!!
And now... back to my freezing room, crisp sheets, and Jimmy Fallon...
_____________________________________________________________________________________________________
Dear Thriftary readers, are you hungry?
I hope your answer is yes because I have a delicious Pad Thai recipe to share with you today. (Oh, my name is Amanda and I blog over at
Little Tranquility
by the way! Hi!)
Originally found via Pinterest because I'm an addict, I knew
this recipe
was a "MUST TRY" since I crave Pad Thai on the regular. Is that normal?
Unfortunately I didn't take too many photos, so I'm not able to give a step-by-step in images but luckily this is a pretty easy recipe so I think you'll do just fine!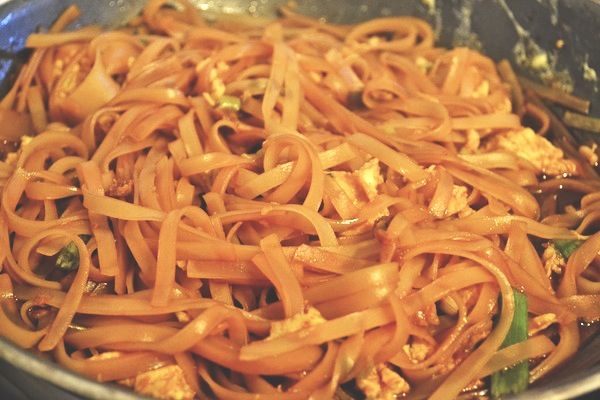 Ingredients:
// 8 ounces dried, wide and flat rice noodles
// 2 tablespoons brown sugar
// 2 tablespoons fresh lime juice, plus wedges for serving
// 3 tablespoons soy sauce
// 1 squirt (about 1/8 teaspoon) Sriracha (optional)
// 2 teaspoons vegetable oil
// 3 scallions (green onions), white and green parts, separated and thinly sliced
// 1 garlic clove, minced
// 2 large eggs, light beaten (optional)
// 1/2 cup fresh cilantro
// 1/4 cup chopped roasted, salted peanuts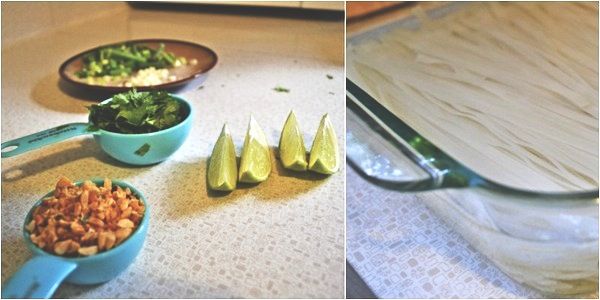 Directions:
1. Soak noodles according to package instructions. Drain.
2. In a small bowl, whisk together brown sugar, lime juice, soy sauce, and Sriracha.
3. In a large nonstick skillet, heat oil over medium-high heat.
4. Add scallion whites and garlic and cook, stirring constantly, until fragrant (about 30 seconds). Add eggs and cook, scraping skillet with spatula until eggs are almost set (about 30 seconds). Transfer eggs to a plate.
5. Add noodles, scallion greens, and sauce to skillet. Cook, tossing constantly, until noodles are soft (about 1 minute). Add egg mixture and toss to coat, breaking eggs up gently.
6. Serve noodles with lime wedges, topped with cilantro and peanuts.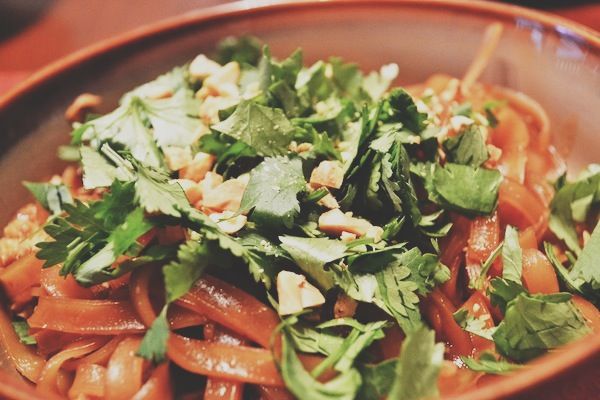 The only difference between my Pad Thai ingredients and the ones posted here is that I doubled the sauce ingredients because I was afraid it would turn out a bit dry. (I'm so glad I decided to do that!)
My only complaint was that I should have cooked the noodles a bit longer as they were just a tad on the rubbery side. Other than that, I think it turned out really well and I'd definitely make it again!
Thanks for reading along and I do hope you'll visit me at
Little Tranquility
.
(I'd love to know how your Pad Thai turned out!)
xo, Amanda